Newsletter


January 2020

Claude Saint-Joly, Chairman and Chief Executive Officer of Urbaser Environnement, presents his New Year wishes to his staff
On the eve of the Chinese New Year, Claude Saint-Joly presented his best wishes to Urbaser Environnement's staff on January 24th, 2020, in the presence of the head office employees but also of the sites'managers. It was in the magnificent stadium of the Montpellier Hérault Rugby team, and in front of around one hundred people that he took the opportunity to draw up an overview of the year 2019 and to outline the prospects for the year 2020.
The Chairman of Urbaser Environnement recalled the main successes of the Urbaser Group in France in 2019, including, in terms of household waste treatment, the takeover, since September 17th 2019, of the operation of the Waste-to-Energy plant in Issy-les-Moulineaux, near Paris, from the "Syctom, the Metropolitan Waste Agency", which processes 510,000 tons of household waste per year, the contract for the construction and operation of the Syndicat "Trifyl" household waste treatment plant, near Albi, which will process 110,000 tons of waste per year and implement a multi-utility system for sorting, anaerobic digestion and energy recovery from RdF, and the contract for the renewal of the operation of the sorting-anaerobic-digestion-composting plant from the "Sivom of the Vallée de l'Yerres and Sénarts", in the South of Paris, including upgrading works, this latter plant already being operated by Urbaser.
He mentioned the many successes achieved in the waste collection and streets'cleaning area with 8 new contracts, including those of the Val de Garonne, Poitiers, Reims, Nantes, Val d'Europe Urban Communities. 
"Our success rate in our responses to public tenders was 50% in the Treatment area and 25% in the Waste collection and Cleaning area" said Claude Saint-Joly, congratulating his teams for this great performance, adding "These successes enable us to increase our order backlog by 450 million euros in Treatment area and 80 million in Waste collection and Cleaning area, after an already significant increase in annual revenue between 2018 and 2019 of +22%. Without prejudging new contracts that we could still win in the short and medium term, our growth will still be at a minimum of +14% in 2020 compared to 2019, with an increase of the yearly turnover from 180 million euros to 205 million euros".
The Chairman of Urbaser Environnement underlined the fact that 2019, within a very competitive and very dense context, had been a decisive year in Urbaser's development in France, thanks to the renewal of contracts it already held (Varennes-Jarcy, Marmande), but also thanks to the conquest of these new contracts, which are very important in terms of volume but also in terms of image.
"I congratulate all of you for your unwavering involvement and professionalism, which have been the keys to this success" he concluded before wishing Health, Happiness and great Satisfactions to all his staff for this New Year.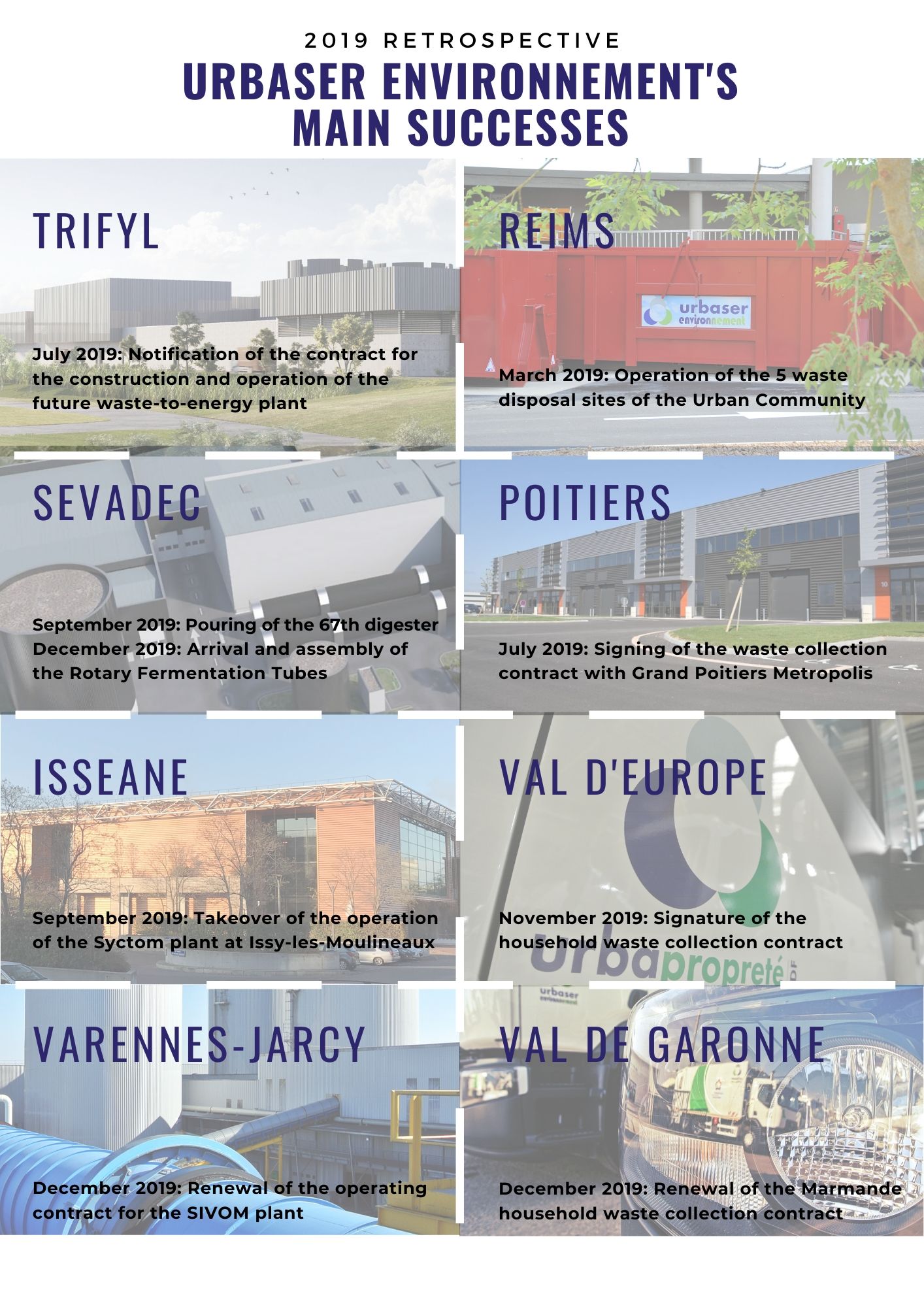 Publication Director : Bertrand Hyllaire — Copy : Laurent Massié — 04 67 99 41 00 — This email address is being protected from spambots. You need JavaScript enabled to view it.— www.urbaserenvironnement.fr